College Coaches please E-mail us to attend the event or request FREE livestream access.
Event info
Fastpitch Nation Summer College Showcase
When:
Jul 22 - 24, 2022
Entry Fee:
$895.00
Payment Deadline:
Payment Due Mar 1 or When Event is Full, if earlier.
Entry Payment Types:
Credit, Debit
Divisions:
16U, 18U
Format:
6 Showcase Games
Min. Games:
6
Max Teams:
66
Awards:
None for this Event.
Umpire Pay @ Plate:
$60/Game per Team
Stay-to-Play:
Yes for Teams Needing Hotels, Click Lodging.
Stay-to-Play Policy:
https://playfpn.com/hotels/
Refund/Cancellation Policy:
https://playfpn.com/refund/
Game Length: 1:30 complete the batter.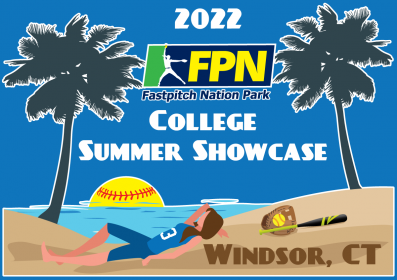 Additional Information
11th Annual Showcase

 (formerly sponsored by Dudley but now will be non-sponsored).

6 showcase games (2 each) Fri., Sat., Sun. 

All games in one 11-field park for maximum exposure.

Every game livestreamed.

30-50 colleges from New England, NY and NJ annually attend.

College Coaches need only E-Mail us to Attend or request FREE livestream access.
---
In 2021, below is the list of college coaches who let us know they attended in person or requested online access during the season. We typically see the same coaches annually.
Albertus Magnus College
American International College (AIC) 
Assumption College 
Bay Path University
Brandeis University
Buffalo State College 
Clark University 
Corning Community College 
Dean College
Eastern CT State University 
Elms College 
Farmingdale State University
Fordham University
Ithaca College
Johnson & Wales University
Lemoyne University 
Lesley University 
Mitchell College 
Molloy College 
Monroe College 
Mount Saint Mary College 
Post University 
Rhode Island College 
Roger Williams University
Sarah Lawrence College  
Simmons University 
Smith College 
Southern CT State University 
Springfield College
SUNY Brockport
SUNY Jefferson
SUNY Purchase 
The College of Saint Rose 
Tufts University
University of Albany 
University of Bridgeport 
University of Rhode Island
University of St. Joseph 
Utica College 
Western CT State University 
Westfield State University 
FPN's 11th Annual Summer Individual College Showcase July 21, 2022
COLLEGE COACHES run this event and work directly with the players through various stations, drills.

Players are formed into teams and will play two games coached by the College Coaches.

Cost is $165 for a single session or $185 for both sessions.

(Session 1: Pitcher or Catcher; Session 2: Infielder/Outfielder).

All players will participate in a Q&A direct with the coaches at the conclusion of the event.
Event Host
Fastpitch Nation Park
Tournament Director:
David Rocha
Mobile Phone:
(860) 883-3729
Office Phone:
(860) 242-0055
Email:
tournaments@playfpn.com
Mailing Address:
PO Box 1176 Simsbury, CT 06070
Website:
https://playfpn.com/
Social Media
:

All games are Livestreamed in HD.

11 Fenced and irrigated fastpitch fields at the best complex on the Northeast.

24' tall, 100' wide net backstops with a clear panoramic view for spectators

Weather-resilient red Alabama shale infields and natural turf outfields.

Covered, enclosed and gated dugouts for player safety and comfort.

LED remote controlled scoreboards with built-in game timers at all fields. 
Umpire Pay-at-the-Plate
Each team pays cash to the umpires at the pre-game meeting prior to the start of the game.

See Event Info above for the cost for this event.

In tournaments teams pay for all games EXCEPT the finals. The tournament host pays for the umpires used in the finals.

Pay-at-the-plate is becoming the standard across the country and is already the standard in the elite level of the game.

It's also much fairer as weaker teams no longer subsidize stronger teams that play more games during bracket play.

Teams do not need to collect as much money early in the season from parents due to the much lower event entry fees.

When a tournament gets shortened due to weather, teams will no longer be out money for those games not played.
Event Venue
Fastpitch Nation Park (FPN)
1001 Day Hill Rd.
Windsor, CT 06095
(860) 242-0055