Event info
Fastpitch Nation Indoor 12U Travel League
When:
Dec 3 - Apr 1, 2022
Entry Fee:
$1,795.00
Payment Deadline:
Payment Due by Nov. 15
Entry Payment Types:
Credit, Debit
Divisions:
12U
Format:
Single League Games
Min. Games:
10
Max Teams:
9
Awards:
None for this Event.
Umpire Pay @ Plate:
$30/Game per Team
Stay-to-Play:
NA
Refund/Cancellation Policy:
https://playfpn.com/refund-indoor/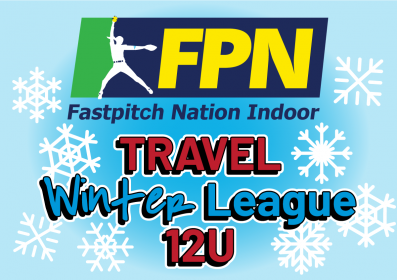 Additional Information
Open roster league open to all 12U travel softball teams.

No travel teams older than 12U are permitted.

Play 10 games over the course of 16 weeks.

Game times are 6pm, 730pm and 9pm on Fridays from Early December to the end March.

Teams use their regular uniforms. If they do not have uniforms we will provide a set of team T-shirts.

Games are timed to 1:15 max.

This league uses one umpire per game.

Each team receives a FREE 30 minute pitching lane for warming up prior to each game (a $200 value - $20 per lane x 10 games).

Insurance is included with the team fee.
Event Host
Fastpitch Nation Indoor
Tournament Director:
David Rocha
Mobile Phone:
(860) 883-3729
Office Phone:
(860) 242-0055
Email:
tournaments@playfpn.com
Mailing Address:
PO Box 1176 Simsbury, CT 06070
Website:
https://playfpn.com
Social Media
:

All games are Livestreamed in HD.

Regulation sized Alabama shale infield and modified artificial turf outfield.

Field enclosed by netting and fencing for safety of both players and spectators.

Five 50' Batting cages, five 50' and one 70' pitching lanes.
Umpire Pay-at-the-Plate
Each team pays cash to the umpires at the pre-game meeting prior to the start of the game.

See Event Info above for the cost for this event.

In tournaments teams pay for all games EXCEPT the finals. The tournament host pays for the umpires used in the finals.

Pay-at-the-plate is becoming the standard across the country and is already the standard in the elite level of the game.

It's also much fairer as weaker teams no longer subsidize stronger teams that play more games during bracket play.

Teams do not need to collect as much money early in the season from parents due to the much lower event entry fees.

When a tournament gets shortened due to weather, teams will no longer be out money for those games not played.
Event Venue
Fastpitch Nation Indoor (FPN)
62 Douglas St.
Bloomfield, CT 06002
(860) 242-0055