College Coaches please E-mail us to attend the event or request FREE livestream access.

Event info
Fury Platinum New England Showcase
When:
Jul 15 - 17, 2022
Entry Fee:
$1,095.00
Payment Deadline:
Payment Due Immediately after Acceptance.
Entry Payment Types:
Credit, Debit
Divisions:
14U Elite, 16U Elite, 18U Elite
Format:
4 Pool to Single Elim. & 3rd Place
Min. Games:
5
Max Teams:
44
Awards:
Cash & Paid Fall Showcase Berth in TN
Umpire Pay @ Plate:
$60/Game per Team, Except Finals
Stay-to-Play:
Yes for Teams Needing Hotels, Click Lodging.
Stay-to-Play Policy:
https://playfpn.com/hotels/
Refund/Cancellation Policy:
https://playfpn.com/refund/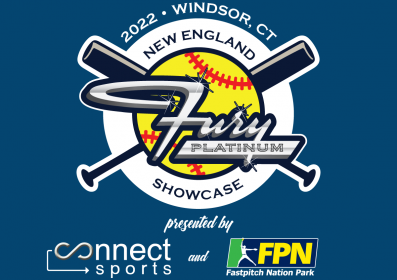 Additional Information
Every College Coach in the Northeast and beyond has been invited. Many coaches attend and never let us know they are coming. Many wish to stay anonymous so they are not crushed by overzealous parents. Below is ONLY the list of those who have let us know they will attend in person or via Livestream for this event. However, over the years many more attend than tell us they are coming. Also there is another large showcase in CT this weekend and I expect we will get alot of crossover.
Anna Maria College

Babson College

Bay Path University

Capital University

Cardinal Stritch University

Castleton University

Chestnut Hill College

Clark University

Doane University

Eastern Connecticut State University

Elms College

Emmanuel College

Ithaca College

John Jay College

Keene State College

Keystone College

Le Moyne College

Massachusetts College of Liberal Arts

Mount Saint Vincent University

Plymouth State University

Providence College

Rutgers University - Newark

Springfield College

Southern New Hampshire University

St. Joseph's College - Brooklyn

SUNY Binghamton University

SUNY College at Brockport

SUNY Purchase College

Thomas College

University of Bridgeport

UMaine Farmington

University of New England

University of Virginia

University of St. Joseph (CT)

Wentworth Institute of Technology

Western New England University

Westfield State University

Wingate University

Worcester State University
Below is the list for our FPN Showcase on July 22-24. Some coaches did not specify if they are attending both the July 15-17 and July 22-24 showcases but many will. Below is the July 22-24 showcase list.
Albertus Magnus College

Babson College

Bay Path University

Buffalo State College

Clark University

College of Staten Island

Eastern CT State University

Elms College

Farmingdale State University

Hudson Valley Community College

Johnson and Wales University

Le Moyne College

American International College (AIC)

Mitchell College

Molloy College

Pace University

Russell Sage College

Southern CT State University

Springfield College

SUNY Brockport

SUNY Purchase

University of Bridgeport

University of Rutgers Newark

University of St. Joseph

Wentworth Institute of Technology

Western CT State University

Westfield State University

Wingate University

Worcester Polytechnic Institute (WPI)

Worcester State University
Fastpitch Nation is proud to partner with one of the premiere organizations in Fastpitch Softball, Fury Platinum.
---
About the Showcase:
This event is run in partnership with Connect Sports, which runs the famous Scenic City Events among many others in TN, GA, AL and other Southern states.

This showcase tournament is an elite level event targeting those players pursuing their dreams of playing college softball.

College coaches from across the region will be invited to attend in person and via livestream. Connect Sports' deep connections with the top coaches in the country is one of the key reasons Fastpitch Nation sought out Connect Sports and Fury Platinum for partnership.

This event is restricted to Elite and A level teams only. No B or lower level teams may apply to play.

Only 50 teams will be accepted. When you register for the event you do not need to pay but you are not immediately accepted.

Once a team is accepted they will need to pay online to lock in their entry.
$9,000 in Prizes
Winners in each division will receive substantial CASH prizes.

1st Place in each division receives $1,000 plus a PAID entry to the Scenic City Fall 2022 Showcase in TN, valued at $1,475.
2nd Place teams receive $500.
About Connect Sports and Fury Platinum:
Jill Crawford Higdon and Jeremy Higdon are co-founders of Connect Sports and The Fury Platinum Softball Program with elite teams based in TN, AL, KY and have recently established Fury Platinum New England with Area Director Joe Roumelis to bring the Fury experience to the Northeast. Jill and Jeremy have been coaching High School and Elite Travel Fastpitch Softball for more than 10 years. They, and their Connect Sports staff, have been successfully creating and running some of the most prestigious and well attended elite level Fastpitch Softball events in the country since 2005 including the famous Scenic City Showcase, regarded as one of the very top showcase events in the nation drawing all the top teams and top coaches.
Fastpitch Nation could not have found a better partner to bring an elite level event to New England to the finest park in the region, Fastpitch Nation Park.
Event Host
Fastpitch Nation Park
Tournament Director:
David Rocha
Mobile Phone:
(860) 883-3729
Office Phone:
(860) 242-0055
Email:
tournaments@playfpn.com
Mailing Address:
PO Box 1176 Simsbury, CT 06070
Website:
https://playfpn.com/
Social Media
:

All games are Livestreamed in HD.

11 Fenced and irrigated fastpitch fields at the best complex on the Northeast.

24' tall, 100' wide net backstops with a clear panoramic view for spectators

Weather-resilient red Alabama shale infields and natural turf outfields.

Covered, enclosed and gated dugouts for player safety and comfort.

LED remote controlled scoreboards with built-in game timers at all fields. 
Umpire Pay-at-the-Plate
Each team pays cash to the umpires at the pre-game meeting prior to the start of the game.

See Event Info above for the cost for this event.

In tournaments teams pay for all games EXCEPT the finals. The tournament host pays for the umpires used in the finals.

Pay-at-the-plate is becoming the standard across the country and is already the standard across the region.

Pay-at-the-plate is also much fairer, as weaker teams no longer subsidize stronger teams that play more games during bracket play.

Teams do not need to collect as much money early in the season from parents due to the much lower event entry fees.

When a tournament gets shortened due to weather, teams will no longer be out money for games not played.

Umpires do not refund payments for games shortened by weather or other reasons. If shortened or postponed games are restarted, teams do not have to pay umpires again.
Event Venue
Fastpitch Nation Park (FPN)
1001 Day Hill Rd.
Windsor, CT 06095
(860) 242-0055