2022 Season Starts 9/1/21. You must create a 2022 team to enter.
Whatever a player's physical age will be on 1/1/22, is what their playing age is, starting 9/1/21.
Event info
Tunnel to Towers Charity Tournament
When:
Sep 11 - 12, 2021
Entry Fee:
$425.00
Entry Payment Types:
Credit, Debit
Divisions:
12U, 14U, 18U
Format:
3 Pool to Single Elimination
Min. Games:
4
Max Teams:
44
Awards:
1st & 2nd, Individual & Team
Umpire Pay @ Plate:
$55/Game per Team, Except Finals
Stay-to-Play:
Yes for Teams Needing Hotels, Click Lodging.
Stay-to-Play Policy:
https://playfpn.com/hotels/
Refund/Cancellation Policy:
https://playfpn.com/refund/
Game Length: 1:15 Pool games. 1:30 Bracket games.
Note: 16U & 18U have been combined due to registration numbers.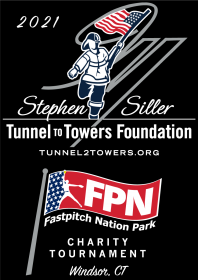 Additional Information
SUPPORT OUR HEROES ON THE 20TH ANNIVERSARY OF 9/11
The mission of the Tunnel to Towers Foundation is to honor the sacrifice of firefighter Stephen Siller who laid down his life to save others on September 11, 2001. We also honor our military and first responders who continue to make the supreme sacrifice of life and limb for our country.
This is the 2nd time we have hosted this event.
In 2020 we raised nearly $8,000. In 2020 we did not host due to COVID-19.
25% of the event registration fees and related t-shirts sales are donated to the Tunnel to Towers Foundation.
---
Tunnel to Towers is committed to ensuring we never forget the events of 9/11 and the sacrifices that were made and continue to be made by our first responders in the line of duty. Below are some of the incredible programs that will benefit from your playing and your generosity.
The Gold Star Family Home Program, launched in September 2018, honors the legacy of those who made the ultimate sacrifice while serving our country. The Foundation will provide a 100 percent mortgage-free home to surviving spouses with young children. The Foundation is committed to raising $250 million to provide 1,000 homes to Gold Star Families.

The Fallen First Responder Home Program, supports our law enforcement, firefighters, and emergency workers who lost their lives under extraordinary circumstances in the line of duty. In these times of tragedy, it is our mission to provide a support system for the surviving family and ensure that they are cared for.

The Smart Home Program, builds mortgage-free smart homes for our most catastrophically injured service members. Each home is custom designed to address the unique needs of each individual. Smart homes host a myriad of features such as automated doors and lighting, wider halls and doorways, special showers to accommodate wheelchairs, automatic door openers, cabinets, counters, and stove tops that can be raised and lowered, back-up generators, and central heating and air conditioning systems that can be controlled by tablets. These homes enable our most severely injured heroes? live better, more independent lives.
Event Host
Fastpitch Nation Park
Tournament Director:
David Rocha
Mobile Phone:
(860) 883-3729
Office Phone:
(860) 242-0055
Email:
tournaments@playfpn.com
Mailing Address:
PO Box 1176 Simsbury, CT 06070
Website:
https://playfpn.com/
Social Media
:

All games are Livestreamed in HD.

11 Fenced and irrigated fastpitch fields at the best complex on the Northeast.

24' tall, 100' wide net backstops with a clear panoramic view for spectators

Weather-resilient red Alabama shale infields and natural turf outfields.

Covered, enclosed and gated dugouts for player safety and comfort.

LED remote controlled scoreboards with built-in game timers at all fields. 
Umpire Pay-at-the-Plate
Each team pays cash to the umpires at the pre-game meeting prior to the start of the game.

See Event Info above for the cost for this event.

In tournaments teams pay for all games EXCEPT the finals. The tournament host pays for the umpires used in the finals.

Pay-at-the-plate is becoming the standard across the country and is already the standard in the elite level of the game.

It's also much fairer as weaker teams no longer subsidize stronger teams that play more games during bracket play.

Teams do not need to collect as much money early in the season from parents due to the much lower event entry fees.

When a tournament gets shortened due to weather, teams will no longer be out money for those games not played.
Event Venue
Fastpitch Nation Park (FPN)
1001 Day Hill Rd.
Windsor, CT 06095
(860) 242-0055