New at Fastpitch Nation Park for 2024
FREE Livestream with FREE game downloads.
FREE Wi-Fi.
The NEW Field 12 to open in the Spring.
Event info
PlayFPN Summer Nationals
When:
Jul 23 - 27, 2024
Entry Fee:
$1,050.00
Payment Deadline:
Payment Required to Secure Entry but Not Required to Pencil In.
Entry Payment Types:
Credit, Debit
Divisions:
12U, 14U, 16U, 16UB, 18U, 18UB
Format:
3 Pool to 3GG Bracket
Min. Games:
6
Max Teams:
72
Awards:
1st thru 3rd, MVP, Indiv. & Team (Rings, Medals, Shirts)
Umpire Pay @ Plate:
$70/Game per Team, Except Finals
Stay-to-Play:
Yes for Teams Needing Hotels, Click Lodging.
Stay-to-Play Policy:
https://playfpn.com/hotels/
Refund/Cancellation Policy:
https://playfpn.com/refund/
Game Length: 1:20 Pool and Bracket Games. No Gate Fee.
Points: Triple Points Event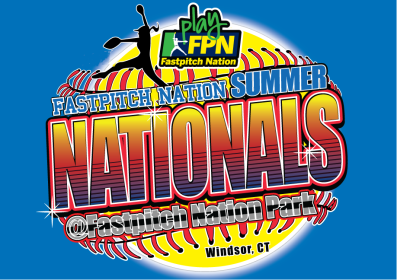 Additional Information
Fastpitch Nation Park
PlayFPN has expanded to 2 weeks of Summer Nationals covering nearly all age divisions and classes.
All open divisions for 12U, 14U, 16U, and 18U are in week 2 along with 16UB and 18UB teams. Week 1 has separate B and C divisions for 10U, 12U, and 14U.
July 23-27 - 12U, 14U, 16U, 16UB, 18U and 18UB.
July 8-13 - 10UB, 10UC, 12UB, 12UC, 14UB, 14UC - Read More
---
Highlights for 12U, 14U, 16U, 16UB, 18U, and 18UB.
More Games and a 3GG Bracket
This week of Nationals will not have the traditional opening ceremonies. We are talking with several locations about hosting some sort of optional get-together for the teams without a team parade and one that does create an extra night in a hotel.

For this event, we are providing more games and a special 3-game guarantee elimination bracket. 3-game guarantee brackets are set up similarly to double-elimination brackets. There is a winner's bracket and a loser's bracket. The main difference is teams that lose their first two games will get to play a third game in the loser's bracket, in order to ensure everyone gets to play at least 3 games in bracket play and provide more chances to advance

.

This will greatly increase the excitement and competitiveness of the tournament.
College Coaches Invited
Pool play and the first day of bracket play will fall directly between several area showcases, including the FPN showcase, and the New England's Finest Showcase in MA. Many college coaches will be in the area and we will reach out and invite all to attend.
Roster and Insurance Instructions
Hotels
This tournament is a Stay-to-Play Event. All teams that need hotels must book their hotels through the PlayFPN hotel system. Fastpitch Nation Park works hard with our hotel partners to provide teams with a great inventory of team-friendly and quality hotel properties, all at excellent prices. Most properties include FREE breakfast, FREE parking, and a pool. All our hotel partners offer flexible checkout policies based on when your team leaves the tournament. Read More for details and to reserve your hotel.
Tournament T-Shirts and Merchandise
Fastpitch Nation Park offers a vast array of apparel and souvenirs, such as tournament t-shirts, hoodies, sweatpants, pins, coins, and a variety of other merchandise. Tournament apparel is purchased and customized on-site. No Pre-order is necessary.
Tournament Schedule
Tue 7/23
Wed 7/24
Thu 7/25

3GG Bracket Play

.

Teams begin to be eliminated on Thursday.

Fri 7/26

3GG Bracket Play continues.

Sat 7/27

3GG Bracket Play

concludes.

Sun 7/28

Rain date is only used if a major portion of the event is lost to weather.
Event Host
Fastpitch Nation Park
Tournament Director:
David Rocha
Mobile Phone:
(860) 883-3729
Office Phone:
(860) 242-0055
Email:
tournaments@playfpn.com
Mailing Address:
PO Box 1176 Simsbury, CT 06070
Website:
https://playfpn.com/
Social Media
:
All games are Livestreamed in HD. Starting in 2024 all livestream and game downloads are FREE.

12 Fenced and irrigated fastpitch fields at the best complex on the Northeast.

24' tall, 100' wide net backstops with a clear panoramic view for spectators

Weather-resilient red Alabama shale infields and natural turf outfields.

Covered, enclosed and gated dugouts for player safety and comfort.

LED remote-controlled scoreboards with built-in game timers at all fields. 

1,000 paved parking spaces.

2 miles from I-91.
Umpire Pay-at-the-Plate
Each team pays cash to the umpires at the pre-game meeting prior to the start of the game.

See the Event Info above for the cost for this event.

In tournaments, teams pay for all games EXCEPT the finals. The tournament host pays for the umpires used in the finals.

Pay-at-the-plate has become the standard across the region.

Pay-at-the-plate is a fairer system, as weaker teams no longer subsidize stronger teams that play more games during bracket play.

Teams do not need to collect as much money early in the season from parents due to the much lower event entry fees.

When a tournament gets shortened due to weather, teams will no longer lose money for games not played.

Umpires do not refund payments for games shortened by weather or other reasons. If shortened or postponed games are restarted, teams do not have to pay umpires again.
Event Venue
Fastpitch Nation Park (FPN)
1001 Day Hill Rd.
Windsor, CT 06095
(860) 242-0055