New at Fastpitch Nation Park for 2024
FREE Livestream with FREE game downloads.
FREE Wi-Fi.
The NEW Field 12 to open in the Spring.
Event info
Fastpitch Nation's 13th Annual Summer College Showcase
When:
Jul 19 - 21, 2024
Entry Fee:
$1,150.00
Payment Deadline:
Payment Required to Secure Entry but Not Required to Pencil In.
Entry Payment Types:
Credit, Debit
Divisions:
16U, 18U
Format:
6 Showcase Games
Min. Games:
6
Max Teams:
72
Awards:
None for this Event
Umpire Pay @ Plate:
$70/Game per Team, Except Finals
Stay-to-Play:
Yes for Teams Needing Hotels, Click Lodging.
Stay-to-Play Policy:
https://playfpn.com/hotels/
Refund/Cancellation Policy:
https://playfpn.com/refund/
Game Length: 1:20 Pool and Bracket Games.
Points: Double Points Event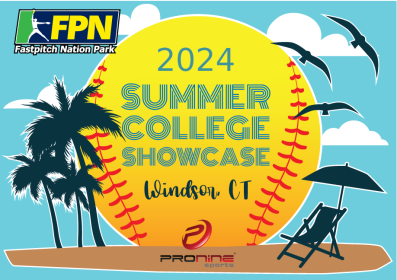 Additional Information
The 13th Annual Fastpitch Nation Summer College Showcase is sponsored by ProNine Sports, the official softball of Fastpitch Nation Park.
What College Coaches Attend​​​​​​​​​​​
Every College Coach in the Northeast will be invited. We get a very similar group of colleges that attend this event annually usually numbering 40 to 50 schools.
Today, coaches rarely confirm attendance in advance or even check-in at an event as many do not want to be publicly named. As coaches contact us we will add to our list. If you know a particular coach who has told you they will attend, let us know and we will add them to this list.
College Coaches to Receive $100 Stipend to Attend in 2024
In 2024 each college coach will receive a $100 stipend who attend in-person as a thank you and to help defray costs associated with attendance.

One stipend per school.

College Coaches e-mail us your desire to attend.
Payments are received at tournament check-in.
No stipends for livestream attendance.
College Fair On-Site July 19
In 2024 we will be inviting college admissions departments to take part in our on-site college fair on Friday, July 19.

Players will get to speak with admissions about the school and receive information
FPN's 13th Annual Summer Individual College Showcase Thursday, July 18, 2024 at Fastpitch Nation Park in Windsor, CT.
This event allows softball players an opportunity to display their talents and work directly with college coaches from around the Northeast. EVEN BETTER! COLLEGE COACHES will run this event and work directly with the players through various stations and drills while also evaluating their skills. Yes players will actually work with the college coaches! Coaches will also talk with the players directly about what it really takes to play college softball. This hybrid format has proven far more effective and rewarding than the format in which coaches simply watch from a distance only.
Cost is $200 for a single session or $225 for both sessions.

(Session 1: Pitcher or Catcher; Session 2: Infielder/Outfielder). Plus all players will participate in a Q&A direct with the coaches at the conclusion of the event.

This event is open ONLY to players from incoming 9th graders to incoming 12th graders.
Event Director is Dawn Stearns, Head Coach, University of Bridgeport.
College Coaches Click Here to E-Mail to Sign up to Attend or request Livestream access.
Event Host
Fastpitch Nation Park
Tournament Director:
David Rocha
Mobile Phone:
(860) 883-3729
Office Phone:
(860) 242-0055
Email:
tournaments@playfpn.com
Mailing Address:
PO Box 1176 Simsbury, CT 06070
Website:
https://playfpn.com/
Social Media
:
All games are Livestreamed in HD. Starting in 2024 all livestream and game downloads are FREE.

12 Fenced and irrigated fastpitch fields at the best complex on the Northeast.

24' tall, 100' wide net backstops with a clear panoramic view for spectators

Weather-resilient red Alabama shale infields and natural turf outfields.

Covered, enclosed and gated dugouts for player safety and comfort.

LED remote-controlled scoreboards with built-in game timers at all fields. 

1,000 paved parking spaces.

2 miles from I-91.
Umpire Pay-at-the-Plate
Each team pays cash to the umpires at the pre-game meeting prior to the start of the game.

See the Event Info above for the cost for this event.

In tournaments, teams pay for all games EXCEPT the finals. The tournament host pays for the umpires used in the finals.

Pay-at-the-plate has become the standard across the region.

Pay-at-the-plate is a fairer system, as weaker teams no longer subsidize stronger teams that play more games during bracket play.

Teams do not need to collect as much money early in the season from parents due to the much lower event entry fees.

When a tournament gets shortened due to weather, teams will no longer lose money for games not played.

Umpires do not refund payments for games shortened by weather or other reasons. If shortened or postponed games are restarted, teams do not have to pay umpires again.
Event Venue
Fastpitch Nation Park (FPN)
1001 Day Hill Rd.
Windsor, CT 06095
(860) 242-0055