Event info
FPN Winter High School League @ Day Hill Dome
When:
Dec 7 - Mar 14, 2024
Entry Fee:
$1,995.00
Payment Deadline:
Payment Due ASAP to Secure Spot.
Entry Payment Types:
Credit, Debit
Divisions:
High School
Format:
Single League Games
Min. Games:
8
Max Teams:
23
Awards:
None for this Event
Umpire Pay @ Plate:
$50/Game per Team
Stay-to-Play:
NA
Games: Games are 1:15, complete the batter.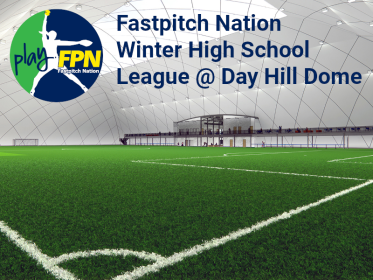 Additional Information
Winter Softball is Back!
The all-new Day Hill Dome, right next door to Fastpitch Nation Park in Windsor CT, will open by Dec. 1. They have allocated us a limited amount of time to rent their dome for softball. So we have brought back the FPN Winter High School League that ran for 14 seasons at our former indoor facility. We are excited to bring the league back this year in a state-of-the-art facility.
League Details:
All games will be played on Thursday nights from Dec. 7 to March 14.

6 games per night with 2 games at 6, 7:30 and 9pm. Games will be 1:15, complete the batter.

Teams play 8 games over 15 weeks.

Cleats (rubber or molded only) are allowed.

This league uses one umpire per game and teams pay-at-the-plate $50 cash each to the umpire.

League Team Insurance is included with the registration fee.

We provide up to 14 FREE numbered league t-shirts with registration to be used as a uniform shirt. Extra shirts are $15 each.
Team Details:
All players must be in high school. No middle school players. However, for those private and some public schools that combine middle and high school for sports, a middle school player is allowed as long as they are on the high school team. The purpose of the league is for the players who will actually play high school softball this Spring, to get ready for the upcoming high school softball season.

The idea is to have as many players from the same high school as possible.

It is allowed to combine high schools to form a team.

When registering a team, choose the division "High School". If your team is strong, choose class A. Otherwise, choose class B. This helps us with the schedule.

No complete travel teams can enter as a "high school team" as that violates the spirit of the league.
Day Hill Dome Highlights:
Day Hill Dome is fully climate-controlled with skylights and sports LED lights.

The dome has two full-sized softball fields with 80' ceilings.

Field dimensions:

Field 1 - 170' down the left field line and 210' down the right field line.

Field 2 - 200' down the left field line and 170' down the right field line.

Both fields are separated by a 10' tall net wall creating a warm-up area between each outfield.

Additional space is provided for only pitchers to warm up prior to their games.

Cleats (rubber or molded only) are allowed.

Ample ground level and elevated viewing areas for spectators.

Less than 2 miles from I-91 and directly next door to Fastpitch Nation Park.
Event Host
Fastpitch Nation Park
Tournament Director:
David Rocha
Mobile Phone:
(860) 883-3729
Office Phone:
(860) 242-0055
Email:
tournaments@playfpn.com
Mailing Address:
PO Box 1176 Simsbury, CT 06070
Website:
https://playfpn.com/
Social Media
:
All games are Livestreamed in HD. Starting in 2024 all livestream and game downloads are FREE.

12 Fenced and irrigated fastpitch fields at the best complex on the Northeast.

24' tall, 100' wide net backstops with a clear panoramic view for spectators

Weather-resilient red Alabama shale infields and natural turf outfields.

Covered, enclosed and gated dugouts for player safety and comfort.

LED remote-controlled scoreboards with built-in game timers at all fields. 

1,000 paved parking spaces.

2 miles from I-91.
Umpire Pay-at-the-Plate
Each team pays cash to the umpires at the pre-game meeting prior to the start of the game.

See the Event Info above for the cost for this event.

In tournaments, teams pay for all games EXCEPT the finals. The tournament host pays for the umpires used in the finals.

Pay-at-the-plate has become the standard across the region.

Pay-at-the-plate is a fairer system, as weaker teams no longer subsidize stronger teams that play more games during bracket play.

Teams do not need to collect as much money early in the season from parents due to the much lower event entry fees.

When a tournament gets shortened due to weather, teams will no longer lose money for games not played.

Umpires do not refund payments for games shortened by weather or other reasons. If shortened or postponed games are restarted, teams do not have to pay umpires again.
Event Venue
Day Hill Dome (DHD)
875 Day Hill Rd
Windsor, CT 06095
860-579-3663